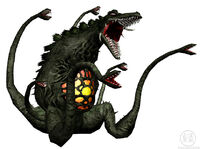 Biollante

Name

Biollante

Species

Mutant Godzillasaurus/Human/Rose Hybrid

Appears In (films)

Godzilla vs. Biollante

Godzilla vs. SpaceGodzilla (stock footage)

Appears in (games)

Super Godzilla

King of the Monsters, Godzilla

Godzilla: Battle Legends

Godzilla: Kaijuu Daikessen

Godzilla: Domination! (dropped out)

Godzilla: Save the Earth (dropped out)

Godzilla: Unleashed (Wii version only)

Godzilla Unleashed: Double Smash

Series

Godzilla
Biollante is a terrifying example of mankind's ability to unleash horrors upon the world. The result of anti-monster mutagen experiments gone horribly awry, Biollante is a patchwork mix of human, plant, and monster DNA. Biollante's sheer height and mass make her the largest known monster by a good margin, and if it were not for her limited mobolity there's little doubt that she would have established herself as Earth's most powerful monster. As a mutant, Biollante holds no special allegiance toward any of her genetic kindred-though she does seem to harbor special animosity towards
Godzilla
. Biollante's quick-extending vines and corrosive poison spray make her a threat at range, while her massive jaws and incredible strength make her deadly up close. She was created by Dr. Shiragami.
Image Gallery
Edit
Screenshots
Edit
Ad blocker interference detected!
Wikia is a free-to-use site that makes money from advertising. We have a modified experience for viewers using ad blockers

Wikia is not accessible if you've made further modifications. Remove the custom ad blocker rule(s) and the page will load as expected.